The California Federation of Women's Clubs (CFWC) is part of an international community service organization which provides education, training, and interaction opportunities for volunteers who are committed to individual growth and community improvement to enrich the quality of life throughout California and the world.
The State Federation was founded in January 17, 1900, with forty clubs, representing six thousand women.
The General Federation of Women's Clubs (GFWC) is an international women's organization dedicated to community improvement by enhancing the lives of others through volunteer service.
Nearly 80,000 members strong, the General Federation of Women's Clubs is united in its dedication to volunteer community service. While diverse in age, interests, and experiences, all club members are united by a desire to create positive change in their communities.
Marina District was organized in March 1956 and Incorporated in August 1956. The California Federation of Women's Clubs at its 1955 Convention to reorganize and adopt new bylaws effective June 1, 1956, dispensed with counties and established 26 Districts. The first Marina District Convention was held at the Santa Monica Bay Club on March 1, 1956. Bylaws were adopted and officers elected. The new organization became effective June 1, 1956, and the name "Marina District" was selected.
 The Purpose of the Marina District is to be a liaison between Clubs in the District and CFWC, but also to disseminate information from GFWC and CFWC to the Clubs and to pass on the concerns and questions from Clubs to GFWC and CFWC
The Torrance Woman's Club was founded in 1921. Our historic and beautiful clubhouse located in downtown Torrance was built in the Mission Style in 1925. Our clubhouse has been redecorated and restored to its original beauty in the spirit of that era.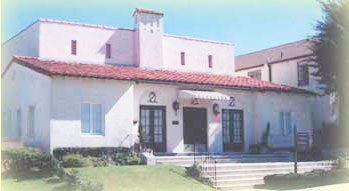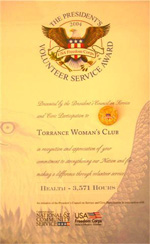 Our Club is a non-profit philanthropic organization. Last year we donated over $25,000 in cash and $8,300 in material donations to various charities and scholarships. Our 100+ club members donated over 27,426 hours of their time to these charities. Our membership is open to all men and women. If you are interested in learning more about our club and joining our wonderful group, just click on the contact page icon.
The Clubhouse is available for rent for your special occasions. We have lovely hardwood floors, a large stage with room for a full production, a modern kitchen with double ovens, refrigerators and lots of counter space.  Dining capacity is 150 guests with either round or banquet tables and chairs. You can use your own caterer, D.J.'s or bands and other services, or you can ask about our house catering packages.  Please note no outside caterers may use the kitchen as our in-house caterer is the only allowed user of the kitchen.  For a view of our facilities, and more information regarding renting, click on the rental icon.
The Torrance Woman's Club was founded in 1921 and has maintained being an active service provider to many philanthropies and community services since that date. We currently have over 100 members. Membership is open to all men and women. Come and join us!!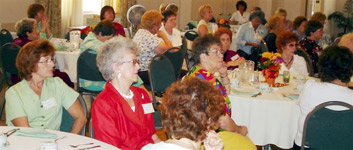 The Torrance Woman's Club meets the first Wednesday of each month, September through June. The Club is dark during the months of July and August. Meetings begin with a social hour at 10:00 a.m. and the club business portion starts at 11:00 a.m.  The meeting price is $20.00 per person which includes lunch and program. Reservations are required.
 If you would like to attend one of our meetings, please call our Club Hostess at 310.533.9116. Annual membership dues are $40.00 and include membership in the CFWC and GFWC. Dues are due at the June meeting. If you join during the year, the dues are pro-rated to reflect the months remaining in the year.
Have Questions? Would you like to speak to our Membership Chairman???
Call our clubhouse at 310.533.9116 or go to the contact page and email us
We look forward to hearing from you….
DON'T LIVE IN THE SOUTH BAY AREA???
We are members of the California Federation of Women's Clubs and the General Federation of Women's Clubs. If you are interested in finding a club near you, contact the CFWC at www.cfwc.org.