Our Clubhouse is located in the heart of old downtown Torrance. The Clubhouse was built in 1925 by the Torrance Woman's Club and was the first opera house venue in the area. The Clubhouse has been decorated in the Mission Style Era look of its founding.
Our location is rented for special occasions such as wedding receptions, anniversaries, vow renewals, banquet, family reunions, meetings, lectures and seminars. We also rent the facility for dance classes, training sessions, sales presentations, plays and other performances.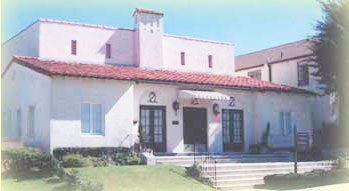 The Clubhouse features a beautiful 1920's Spanish Style building with lovely hardwood floors. Dining capacity is 150 persons with round or banquet tables, as seen in the pictures. There is a full stage and banquet bar. We have a modern large kitchen with double ovens, refrigerators and lots of counter space to accept most any type of needs you may have.  Please note that our caterer is the only allowed user of our kitchen at this time.  We are more than able to help you with any and all of your event needs. Please use the Contact Us page to email us or call the Clubhouse at 310-533-9116.
The pictures give a little view of the interior of the location. All inquiries can be either called in by telephone or by contacting us on the contact page, or also by coming by the Clubhouse and viewing for yourself all we have to offer.